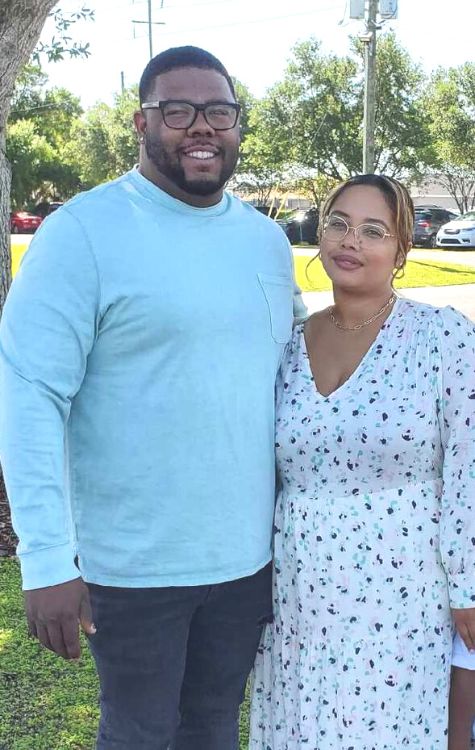 Meet Richard and Maria Williams from My Sweet Scent of Home. My Sweet Scent of Home specializes in modern farmhouse furniture and home décor, as well as custom engraving and personalized gifts. They strive to create unique pieces that make your house feel like a home.
I was introduced to their beautiful cutting boards and signs via Instagram. My love of charcuterie boards means I am always on the lookout for boards, accessories, and my love of all things locally made means I am always scouting around the county. Everything about their Instagram page and website appealed to me from the pictures to the designs to the custom furniture.
We know you will love them and their items as well.
Tell us a little about your business and what you do?
We own a small business that we named My Sweet Scent of Home. We came about this name with our oldest daughter, we were sitting in our living room brainstorming  – what felt like home to us. I love home decor and everything home related. I love what home feels and smells like – like chocolate chip cookies and Sunday pancakes that my hubby is so amazing at making. I love picking out paints and coming up with ideas for everything Christmas lol. Our daughter said " My Sweet Scent of Home" and we loved it! We wanted to create everything that helps a house feel like a home.
Tell us about My Sweet Scent of Home came to be?
We had just bought our first home and I wanted a dining room table from Pottery Barn. At that time we couldn't afford to spend so much on a table. I challenged Richard to make a table just like it. He took the picture of the table I wanted and BOOM, he built it. After that, all our friends and family wanted him to build them something.
I'm a stay-at-home mom and I've always loved decorating my home. Everyone that came into our home would tell me how I share how I decorated our home on social media. I was too shy and unsure but I finally did it! Now we're here! God is good
What is the best thing about this business?
The best thing about creating pieces is working with my husband. Having that time together and also seeing our clients smile when they receive their pieces.
How many kids do you have and what are their ages? How do you juggle work with fatherhood?
We have three kids, ages 12, 8, and 4. Juggling parenthood and being a mommy is hard work! I think we have created a balance now. When the kids are at school we work and when they are home our attention is on them. And work again when they go to sleep
What's your favorite restaurant and/or place to shop in Polk County? What's your favorite thing to do with your family?
We are still new in Polk County but so far our favorite spot to get something sweet is the donut man. Oh my goodness their donuts are amazing and also we love Pelicans in Winter Haven.
What do you love about living in Polk County?
We love all the lakes in Polk County but most of all we love the slower pace and how family-oriented everything is.
What is the best advice you have been given?
The best advice we have received as a small business is to never give up and never compare yourself to others.