Frosted Cookies N' Cream Rice Krispy Treats
Inroduction
About this Recipe
By: Maricarmen Chavez
There is nothing better than a simple but gorgeous looking holiday treat. These Frosted Cookies N Cream Rice Krispy Treats are perfect for any Fall party, gathering, or just because. They are sure to be a hit with everyone.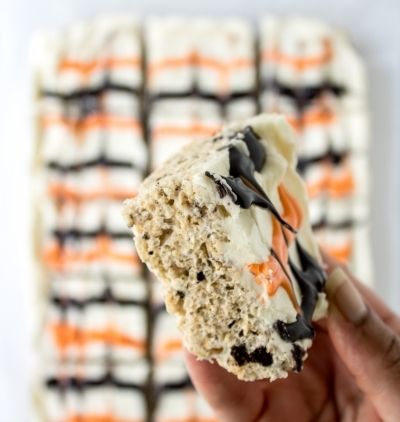 6 cups Rice Krispie Cereal (half box)
5 tbs Butter
14 oz Marshmallows
8-10 Oreos, finely chopped
1 jar store-bought vanilla buttercream
1/4 cup black candy melts
1/4 cup orange candy melts
Paramount crystals, coconut oil, or vegetable oil.
Instructions
In a large microwave-safe bowl melt marshmallows and butter for 90 seconds. Go around the bowl with a rubber spatula making sure the marshmallows aren't sticking to the bowl. Add half of the crispy cereal and half of the crushed Oreos. Mix well.
Add the remaining cereal and Oreos. Line the dish with parchment paper (for easy removal when cutting) Spray with nonstick spray. Add all of the rice cereal mix to the pan and mash down with a metal or plastic spatula (you can also just press it but this makes it even).
Allow to set 10-15 min before icing.
Step by Step Decorating Instructions
Step 1
Add 1 tbsp of paramount crystals or coconut oil and heat the candy melts in 30-second increments until melted. Add chocolate to piping bags (or ziplock bags) and cut a small zip in the end.
Step 2
Spread buttercream all over the top of the rice Krispy treats 
Step 3
In an alternating pattern do a horizontal stripe of the orange and black chocolate.
Step 4
Run a skewer down and then back up to create the design on top.
Step 5
Allow to set for 60-90 mins or until the chocolate is set. Lift up the parchment paper. Slice treats until even sections and serve.