By: Mari Chavez
I struggle with making and having breakfast simply because mornings are hectic. Simply make this over the weekend and everyone can throw it on their yogurt along with some fruit in the morning. Or if you are like me, snack on it dry.  You can change the walnuts to pecans for a different flavor. This quick and easy granola recipe can be stored for up to a week in an air-tight container.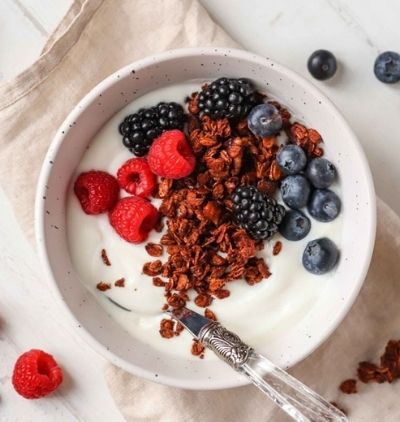 2 cups rolled oats
1 cup walnuts chopped
1 tbsp cinnamon
4 tbsp almond butter
1/2 cup maple syrup

salt 
Preheat the oven to 325 F (160 C) and line a baking sheet with baking paper
Mix the oats, walnuts, and cinnamon in a large bowl, adding a pinch of salt
Next, add the almond butter and maple syrup, mix until well combined and sticky
Spread the mixture evenly over the baking tray and bake for 15 minutes on the middle shelf in the oven. Remove tray from the oven, break up the mixture and return to oven for 10 – 12 minutes or until golden brown
Remove the tray from the oven and let cool. Store in an airtight container for up to a week. 
Nutritional Information Per Serving
Protien

3%

3%

Carbs

15%

15%

Fat

8%

8%