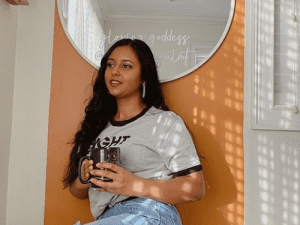 What is your name and what is your company's name? 
I am Natasha and my company is Vega Spa, LLC.  I am a massage therapist and esthetician.
What is your job? 
I massage clients to help with chronic pain, headaches, sciatica pain, and more. I offer facials to help my clients feel more confident in their skin. I graduated from Ridge Career Center in 2014 for Massage Therapy. I worked in the corporate massage industry before opening my own space. I recently received my license as a Full Specialist in 2020 from Artistic Nails & Beauty.
Why did you decide to pursue this career? 
My mom was the first person to tell me to pursue massage therapy. At the moment, I was not interested in that as a career. When my son was born in 2010, I found myself massaging him all the time. I would even massage my husband because he complained of lower back pain. I decided to learn more about massage in 2013. Skincare was always something I was interested in. I suffered from acne as a teenager and I was very self-conscious because of it. In 2019, I decided I was going to take the plunge and start my esthetician journey.
What's the best thing about your job? 
The best thing about my job is my clients! I love all my clients. Everyone is so different and has stories to share. Some of my clients like to come and receive treatment because that is the only quiet time they have. Either way, I am happy to help my clients and they mean so much to me. 
How many kids do you have and what are their ages? 
I have two kids. My son is 10 years old and my daughter is 4 years old. 
How do you juggle work with mommyhood? 
Thankfully, I have a flexible work schedule. This is one of the reasons why I love having my own business. I work in the mornings, early afternoon, and weekends. This helps me have time with my kids during dinner time. I try to stick to a routine with my kids. In the afternoons, we go walking around the neighborhood or enjoy movies during dinner time. I set time aside in the morning for social media posts, inventory, and such. This routine helps me be present with my family. 
What's your favorite restaurant and/or place to shop in Polk County? 
We hardly go out because of COVID-19 but we do love to eat! I love trying new vegan food vendors as well.  As a family, we love Burger21 and Sakura in Winter Haven. Some of my favorites are The Juice Box, Sweet Magnolias Tea Bistro, Mediterranean Fresh Grill, and a lot more. My favorite shop at the moment is Pura Vie because it has everything I love! 
What's your favorite thing to do with your family? 
As a family, we love going on little adventures. These can range from just going to get some ice-cream and eating it by the lake or going to Disney! I always drag the family to try new restaurants with me and then, we try to recreate the meals at home! Every year we try to go on vacation and our itinerary is full of restaurants! Last summer, the kids and I spent a month learning about different countries. At the end of the lesson, we had a feast with all the foods from that certain country. We might try this again this year! 
What do you like about living in Polk County? 
I love all the new events coming to Polk County. I was part of our first VegFest and that turned out great. We have our weekly farmers' markets and we have so many great vendors in our area. I also love how quiet it can be. I grew up in Guyana, South America and I appreciated the evenings just sitting on our swinger and listening to nature. I value this about Polk County. I can wake up and drink my chai while listening to the morning birds or drink my smoothie and listen to our real live evening nature sounds. Our family likes to take evening walks and occasionally, the kids and I have yoga sessions in our living room. 
What's the best advice you have received?
"Just be yourself." I've heard this so many times in my life and always thought how complicated it sounded to me. I didn't accept this quote until the end of 2019. In our corporate world, we need to follow so many rules to look like a uniform group of employees. Most of us tend to lose ourselves along the way. When I started my business, I still had that mindset. I had to reconnect with my true self and show the world the person I am. I had to remember that I didn't have to be a trendy person to gain clients but a genuine, caring person which I already am
Contact Natasha on Instagram HERE